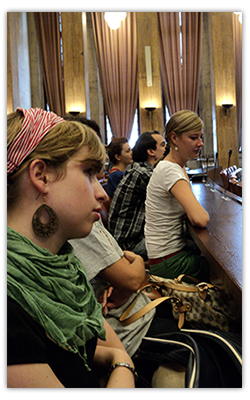 Grants
Foreign students studying Serbian Language and Literature as their major or secondary subject at departments of Slavonic studies in the transition countries are eligible to apply for a limited number of partial grants, which are provided by the Executive Council of the Autonomous Province of Vojvodina or the Faculty of Philosophy.
In such cases, students have to submit the following:
a filled-in application form, indicating that it is an application for a grant,
certificate from the university stating the applicant's status,
letter of recommendation by a professor from the applicant's university,
motivation letter.
The material can be sent by email (scanned) to: centar@ff.uns.ac.rs or by regular post to the following address:
Filozofski fakultet / Faculty of Philosophy
Odsek za srpski jezik i lingvistiku / Department of Serbian Language and Linguistics
Centar za srpski jezik kao strani / Centre for Serbian as a Foreign Language
Dr Zorana Đinđića 2
21000 Novi Sad
Srbija / Serbia
The application deadline is 30 April 2022.
The students who receive and accept a full/partial scholarship agree to accept the programme of the School entirely, which means that they are obliged to participate in all the curricular and extracurricular activities from the beginning until the end of the Summer School.